"Dog Food Yelp Line"
Ask a Question, Answer a Question

Have you already spent many long hours researching and trying to decide on the healthiest diet for your precious fur baby?
Is your head still spinning and you'd really like to ask a specific dog food question?
Welcome to Dog Food Yelp Line - Our new interactive Q&A Dog Park!
Join your fellow dog lovers in
Lending and receiving a helping paw!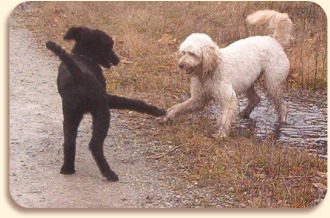 © Photo by Charlie Friedman
This is the doggie park where you can get suggestions and answers from members of our dog community, and where you can also give back and offer some advice on questions submitted by other visitors.
Remember, not only do we look forward to receiving all your questions, but we encourage you to help out and provide answers and comments too!
Whether you're a qualified canine nutritionist, a vet, a pet store owner, a breeder, or simply a devoted dog lover -- Please jump in and help other doggie parents by answering a question or two. All your additional input will add enormous value to our site.
Answer a question

by simply clicking the "comment" function below each visitors' question.

Note: If your question(s) requires expert vet advice, you can
ask a veterinarian online
, where you will get an immediate answer from a qualified veterinarian.
If you have a comment or story you wish to share (rather than a question), you'll be warmly greeted at
"Dog Food Tell Tails".

Community Scoop interactive dog parks are designed to encourage friendly, caring and informative discussions. All well-meaning questions, answers and opinions are welcomed and treated with respect.

Spiteful, discourteous and other inappropriate comments will get you thrown in the dog house without warning. This applies to spam and/or advertising attempts.

If you state a claim as fact (versus expressing a personal opinion), or alert us to a news story, please provide relevant reference links. We will include links at our own discretion.

The opinions expressed in Community Scoop interactive dog parks are the opinions of those who post and do not necessarily reflect the opinion of the Dog Food Scoop Team. In other words, they are your words, not ours.

The Dog Food Scoop Team will do their best to also answer as many questions as possible. However, we're a small pack burning the midnight oil on our site, and struggling to find enough hours in the day! We really need to free up our time to push forward with our detailed dog food reviews, and other important articles on our long "To Do List".

We appreciate all our visitors lending a helping paw by answering a question or two wherever you are able!




Arf Your Dog Food Question Here!
Got a specific question about dog food and your particular pooch's diet? Looking for unbiased thoughts, opinions and experiences from other dog loving visitors?

Go ahead and arf away!

Just start typing in the form below. Click on the question marks for a few tips.
Questions & Answers from Other Visitors
Click below to read questions and answers from other visitors to this page ...