"Dog Food Tell Tails"
Consumer Reports on Dog Food

This is where
YOU
get to jump in and tell tails about anything and everything dog food.
Write your own consumer reports on dog food
, and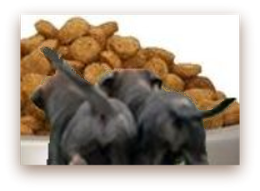 comment on dog food reviews and discussions from other dog parents.
Connect----Share----Learn
Tell us which dog food brands you rate tails up, and which ones get your tails down. Why?
Do you feed your pooch a kibble or canned dog food only, or a combination of both dry and wet dog food? Do you rotate between dog food brands and formulas? Tell us your story and share what works best for your special doggie.
Perhaps your dog suddenly reacted badly to his regular dog food and you noticed an undisclosed change in dog food ingredients? Dog food companies constantly fiddle with their formulas behind the scenes. Please tell tails on them here!
Do you feed the BARF raw dog food diet? Share your thoughts on why you believe the raw food diet for dogs is best, and what results you've see.
Are you an advocate of vegetarian dog food? Do you feed it exclusively, or in combination with either another meat based dog food, or with your own homemade dog food recipes?
Do you only feed homemade dog food at all times? Share your story, and why you never feed commercial dog food. Do you have some healthy recipes for homemade dog foods that you can share with all of us?
Does your dog have dog food allergies or other health problems that require a special diet? Have you found the best dog food (or combination of diets) for your pooch? Let us know about it, and what has and hasn't worked.
Scroll to bottom of page to see all visitor contributions

Heads-Up


Folks, our mandate at Dog Food Scoop is to do the research and sniff out the most accurate and up-to-date dog food information we possibly can!

That said, the pet food industry keeps us constantly spinning on an ever-changing, dark and deceptive merry-go-round and, despite our best efforts, it's dog-gone imposssible to be 100% right 100% of the time.



We

need

your eyes, ears and knowledge too!

Please jump in and bark along with us.

We respect and appreciate all opinions, whether we agree with them or not.




*** It's 100% about our precious pups ***



Community Scoop interactive dog parks are designed to encourage friendly, caring and informative discussions. All well-meaning opinions are welcomed and treated with respect.

Spiteful, discourteous and other inappropriate comments will get you thrown in the dog house without warning. This applies to spam and/or advertising attempts.

If you state a claim as fact (versus expressing a personal opinion), or alert us to a news story, please provide relevant reference links. We will include links at our own discretion.

The opinions expressed in Community Scoop interactive dog parks are the opinions of those who post and do not necessarily reflect the opinion of the Dog Food Scoop Team. In other words, they are your words, not ours.


Share Your Dog Food Reviews and Stories Here
Tell tails about your dog's diet, and share your thoughts, opinions and experiences. We can all learn from YOUR knowledge.

Just start typing in the form below. Click on the question marks for a few tips.
What Other Visitors Have Said
Click below to see consumer dog food reviews and contributions from other visitors to this page ...