Online Pet Supplies
Buy Dog Food Online from Reputable Stores

Looking to buy dog food and other online pet supplies?
Struggling to get your paws on reasonably priced dog food online with cheap or, better yet, free shipping of dog food?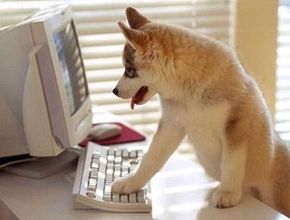 Many of our visitors have contacted us regarding recommended online pet supplies stores. Many of you can't find the premium dog food brands close to home, while many others are shopping around for the best dog food prices.
We sniffed about to see what we could dig up and discovered some really excellent online pet stores and dog food companies!
In our opinion, there's no question that online shopping has huge advantages - whether you live close to a specialty pet food store, or not.
For instance ...
The best dog food brands typically aren't cheap, and these are tough economic times. By shopping online, you will find a variety of dog supplies frequently on sale, or relatively cheap dog food prices offered with the use of online dog food coupons.
These kinds of discounts are very rarely seen at local retail pet stores (particularly for premium dog food).
Buying online pet supplies is the perfect answer if you live in a smaller town where supermarkets generally don't carry any quality holistic dog food brands. (In fact, most of the best dog food companies refuse to sell to chain pet food suppliers).
The ability to shop online 24 hours a day is also perfect for those of us leading hectic lives in the big city, for the elderly, or for those of us who struggle to lift heavy bags of dog food, and so on.
The Dog Food Scoop Team is dedicated to our furry friends, and their doggie parents who love and care for them! We hope to help all your fur babies get their teeth stuck into all the best dog foods without breaking ther bank ... or your back :)
Here, you'll find our shortlist of reliable and reputable online pet supply distributors,
FYI, Dog Food Scoop personally speaks anonymously with ALL online dog food suppliers before adding them to our list!

We ask numerous questions in order to get a sense of their professionalism and customer service. Additionally, we ensure that they have an adequate refund and return policy in place.

All the following Online Pet Supply Distributors are established companies with a proven reputation and we, ourselves, have satisfactorily purchased all natural pet food and other supplies from several of these companies in the past.

See also:

Dog food coupons and discount dog supplies - Updated regularly.
Tips on purchasing online pet supplies - Safe internet transactions, etc.
Our Pick of the Best Online Pet Supply Stores

*** UNLIMITED FREE SHIPPING ***
For Orders Over $49

*** SPECIAL10% OFF ***
Orders Over $65
for Dogfoodscoop Visitors

*** EXTREMELY COMPETITIVE PRICES ***
Zero Tax for Majority of U.S. States
We searched long and hard for an online pet food supplier that offers FREE SHIPPING
and
competitive pricing. We're thrilled to announce Petflow does all that and more!
This online pet food supplier carries a wide range of premium dog food brands (and cat food too!) at
discounted
prices.
Check them out and compare prices for yourself. Chances are you'll find that Petflow's online pet supplies are not only lower than your local pet store but, in most cases, are cheaper than any other online store!
Petflow also offers an extremely efficient auto-delivery service. Simply choose the items you need and create your own delivery schedule (which can be changed or canceled at any time).
Then relax! No running out of pet food again, or breaking your back carting around heavy bags - your pet's food will arrive at your door on time and at no extra cost!
Outstanding customer service too!
Highly recommended!
*** Save up to $25 ***
10% OFF Orders Over $65
Use Coupon Code "DOGFOODSCOOP25" upon checkout


Note, Petflow presently only delivers to the USA.
---
Amazon.com
Amazon.com needs little introduction. They are a household name and an extremely professional, ethical, and well-managed organization. We have personally purchased from Amazon many times, and were completely satisfied each time.
Amazon also ships numerous items for FREE - including many premium dog food brands. See here for our Dog Food FREE SHIPPING List.
Tip: Amazon is extremely customer service oriented. For extra peace of mind, whenever possible try to buy products "Sold by Amazon", or "Shipped by Amazon". This way, should you ever encounter a problem, it will be handled by Amazon themselves, as opposed to the independent online pet food distributor selling the product.
---
Only Natural Pet Store
Only Natural Pet Store is one of our favorite sites for all natural online pet supplies. They are pawsitively a dogaholic's paradise!
As their name implies, they carry a HUGE selection of natural, holistic and organic dog food, including treats, supplements and vitamins, and homeopathic pet treatments. They even carry organic dog toys, beds, and other ecologically-friendly gift ideas.
They offer 5% off all new orders, 10% - 15% off regularly scheduled orders. See here for all natural dog food, and other unique items on sale now.
We have dealt with Only Natural Pet Store in the past, and are very impressed with their Customer Service - Extremely courteous, friendly, and helpful.
---
PetAlive
For those of you who prefer the natural, holistic route when treating various dog ailments, PetAlive offers a fabulous range of gentle herbal, nutraceutical and homeopathic dog remedies.
Their product line also includes a skin and coat tonic, as well as an all natural treatment for runny poo ... ;)
---
Pet Wellbeing
There's so much to really like about Pet Wellbeing!
This company specializes in and produces 100% all-natural pet supplies and holistic supplements. (If you're anything like us, and prefer natural alternatives to harmful dog medications)
All formulas are produced in an organic processing facility in BC, Canada, and developed by certified veterinarians, naturopathic doctors, and a master herbalist.
They offer 120 products which promote well-being and treat a number of common dog health problems. All PetWellbeing products undergo stringent testing by certified veterinarians, are even FDA registered.
Additionally, they ship practically worldwide!
---
Wysong Holistic Dog Food and Supplements
Wysong Dog Food is on our 5 Scoop best dog food list. They are a family owned company, who have been in business for 30 years.
Their dog food line-up includes: Raw dog food, dry dog food, canned dog food, pet supplements, and dog grooming and care products.
You can purchase dog food online directly from Wysong without going through a middleman! The Customer Service Representative we spoke with was extremely up-beat, friendly and helpful.
Note, they will only accept returns on un-opened bags. If your pooch is new to Wysong, or a picky pup, you may want to start with their Canine Variety Pack, or their "Introductory Package" which ships at a rate of $5.00 anywhere in the U.S.
---
We will add to our list of preferred sites for online pet supplies as we find them.
TO Discount Dog Supplies and Special Promotions
You are here: Home > Online Pet Supplies