"Getting to Nose You"
Show Off
YOUR

Pooch Here!

"Getting to Nose You" is our interactive dog park where

YOUR

special doggies can have their very own webpages right here on our site!

We love getting to nose all our furry visitors, so c'mon and join the Meet and Greet!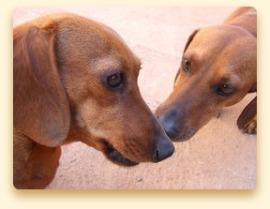 Feel free to share anything and everything about him/her, and don't be shy to brag away!
Perhaps you have an endearing and touching story about how your baby's affected your life in some special way?
Or how about telling us about some of his loveable and quirky little habits. Or what a genius he is. Or how goofy, affectionate, stubborn or simply dog-gone adorable he is!
Anything goes!
Simply add your story below,
upload your favorite photo, and -
PRESTO! You're done!
Scroll to bottom of page to see all visitor contributions
Want to Give Your Precious Pup His/Her Very Own Webpage?
Come share your pooch with the whole world! Tell us all about him/her right here. No modesty required ... Feel free to brag away!

Just start typing in the form below. (Click on the question marks for a few more tips).
Meet and Greet Other Poochies
Click below to get to nose doggies from other visitors to our site ...