The Top Dog Foods
Tips on How to Identify and Choose


Choosing the top dog foods for our furballs can make our heads spin! Do you know where to even begin with your dog food comparison?
Pet store shelves offer dry dog food, canned dog food, freeze dried dog food, premium dog food, all natural dog food, raw dog food, vegetarian dog food, senior dog food, puppy kibble, and on and on ...
Now add to that all the controversy and horror stories encircling the commercial dog food industry and ... One can really get their tails in a knot!
Do we simply never feed our pooches commercial dog food again, and decide to make our own all natural homemade dog food. Or what about the raw dog food diet (BARF) However, what if neither of these diets fit in with our lifestyles? What then?!
The good news is there is a silver lining behind this dark cloud!
Learn to Identify the Top Dog Foods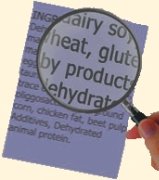 Dog Food Scoop has put together some in-depth, but easy to read tips to help you choose the best commercial dog food for your furry, little companion.
Ready to do some homework? Great!
Follow along here and learn for yourself how to quickly and easily pick out the top dog foods from the rest.
Now, the next time you're browsing the pet food aisles, you'll notice yourself scrutinizing all the different dog foods through very different eyes.
You'll see how easy it is to narrow down your dog food comparison to all the top dog foods, without wasting your time on the junk products.


You are here: Home > Choosing Top Dog Foods