Ask a Veterinarian Online
Get Inexpensive and Expert Vet Advice
On Your Specific Veterinarian Questions
Do you want to ask a veterinarian questions about your dog's health problems?
Ask a Vet Online is a
Very reputable, professional, speedy and affordable service.
Get one-on-one professional vet advice from qualified veterinarians.
... All at your fingertips! ...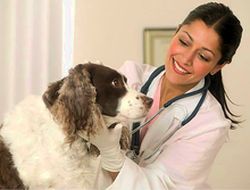 We receive many questions every day but, folks, please bear in mind that we are not vets.
For questions requiring expert vet advice, we are happy to recommend this option as a great way to directly ask a vet your questions online.
Ask a Veterinarian Online - How it Works
There often seems to be some new symptom or other on-going health issue that niggles at us. Other times, we just wish we could afford to get a second opinion along with our own vet's advice.
This reputable online vet service is an extrememly inexpensive option for non-urgent dog health problems. It's a fabulous way to get one-on-one answers to your specific veterinarian questions.
Fast response time - usually within an hour or so
No spending an arm and a leg - Average Cost: Between $9.00 and $15.00!
It's 100% Risk Free. If you're not satisfied with the answer, you don't pay!
Tip! When you ask the veterinarian questions, be sure to provide as much detailed information as possible. Answer any requests for more information concisely and thoroughly. You will be helping the vet to give you an accurate and prompt answer.
Ask a Vet a Question Now
Just type in this box to ask an online vet your question.



Folks, please remember to use this online vet service responsibly. If your dog or puppy seems very sick, is in obvious pain, has been badly injured, or has consumed large quantities of any poisonous foods for dogs, you must treat it as an emergency situation.
In any of the above cases, it's essential that you visit your own vet immediately, or
rush your dog to a 24 hour emergency animal hospital.
You are here: Home > Ask A Veterinarian