Wet Dog Food or Dry Dog Food?
Pros and Cons

Wet dog food? Dry dog food? Yet another dog food comparison subject under great debate.
When it comes down to the bare bones of deciding between the best canned dog food or the best dry dog food, there may not be a clear, run-away winner.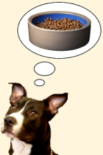 Most studies in this regard are sponsored in part by the actual manufacturers of either wet dog food or dry dog food. Therefore, it's difficult to give much weight to these types of biased results.
However, our research found that many independent experts tend to give some preference to the best canned dog food versus dry. Otherwise, they recommend a combination of the two.
So, having said that, let's now take a closer look at each product and weigh up their pros and cons.


Wet Dog Food (aka Soft, Moist or Canned Dog Food)
Pros
Canned dog food tends to contain higher values of protein, moisture and vitamins. See below, for important information on how to make a true wet vs. dry dog food comparison of the guaranteed analysis panel.
Most dogs, and particularly finicky eaters, usually find canned dog food more appetizing than dry kibble, as it is very flavorful.
Canned dog food is less processed.
There is no need to chemically preserve wet dog food, so it generally tends to contain less chemical preservatives.
Senior dogs, small dog breeds, and dogs with dental problems find it easier to chew soft food.
Unopened canned dog foods have a far longer shelf life, and may be purchased in bulk quantities.
Cons
Once opened, canned dog food can spoil quickly, so it should never be left in the animal's bowl for long periods of time. Any remaining canned dog food must be refrigerated and used within a maximum of three days. Throw out the rest!
Wet dog food is generally pricier than kibble. This could be an important factor to consider particularly if you have a large breed dog.
Once your dog has developed a taste for moist dog food, you may have difficulty transitioning him to dry, if ever necessary.
Caution: Take care to read the label and note whether the product is intended as a "complete" diet or for "supplemental feeding only".
Dry Dog Food (Kibble)
Pros
Dry kibble exercises the dog's jaw muscle and satisfies his natural chewing instinct.
Dry kibble is generally more economical as, once opened, it does not spoil as quickly.
Whether or not dry dog food helps to clean the dog's teeth is debatable.

Cons
Dry dog food has less natural nutrition due to the baking process and storage.
Dry dog food contains more added preservatives than wet dog food.
Unopened bags of kibble have a shorter shelf life.

Please take a minute to read these important - and eye-opening - articles on:

Dog Feeding Guidelines
It is generally agreed that puppies under 8 - 9 months, weighing less than 30 pounds, will do equally well whether you choose canned, semi-moist or dry puppy food.
However, for larger puppies weighing over 30 pounds, a dry puppy kibble is sometimes preferred, as it provides greater caloric density.
Adult dogs should be fed an age appropriate canned, semi-moist or dry dog food (i.e. "adult" or "senior"). Again, some experts recommend dry food over wet for adult dogs weighing 30 plus pounds, due to its greater caloric density.
How to Make a "True" Dog Food Comparison
It's important to keep in mind when making this kind of commercial dog food comparison, that you understand how to compare apples with apples, so to speak.
Here's what we mean by that.
Next time you're in the pet food aisle, grab a bag of dry dog food and a can of wet. Turn them around and look at the label on the back. Where you see "Guaranteed Analysis", this provides information on each product's nutrient levels.
Now, compare the moisture values of the two products. You will notice there is a huge difference. Canned dog food averages 75% water, whereas dry dog food averages only about 10% water. Thus, as it stands, you'd in effect be comparing apples with oranges.
This exercise illustrates what we mean. Take a look at the protein values of the two products. Most likely, the canned dog food will show a much lower percentage than the bag of dry.
However! This is a totally inaccurate comparison. In order to make a true comparison, we need to first follow an equation for converting dog foods to dry matter. (i.e. apples with apples).
When done, take a look again at the protein values. You'll see in most cases that canned dog food tends to have a much higher protein content than dry kibble.

Whichever choice you (and your dog) ultimately make - whether it's dry, wet, or a combination of both -- Most importantly, do try to make sure you're feeding one of the
best dog food brands on the market.
Learn for yourself how to read between the lines of dog food labels and above all, learn how to easily identify the best commercial dog food.

BACK to Dog Food Scoop Home