Dog Food Recalls
2009 - 2010
Here, we update you on all dog food recalls as they happen. Please bookmark this page and check back frequently.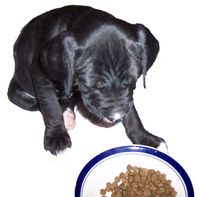 You can also be automatically notified as soon as we update our dog food recalls list, and other new articles and dog food reviews by subscribing to our site. Simply click on the orange RSS button on the left side menu (no email address required).
Additionally, you can access pet food recall updates and other pet health and safety information directly from the Center for Veterinary Medicine. See the new Pet Health and Safety Widget in the right column.
This widget is updated automatically on our site. Click on the "Updates" tab for a list of present dog food recalls.
Please help us spread the word, and inform all your fellow dog owners.
If necessary, here's
how to report a pet food complaint
via the FDA's Safety Reporting Portal, or by calling your state's FDA Consumer Complaint Coordinators.
December 18, 2010
Kroger Co. Dog Food Recalls - Possible Aflatoxin Contamination
Old Yeller Chunk Dog Food & Kroger Value Chunk Dog Food
Grocery Chain, Kroger Co., CINCINNATI, Ohio, has announced pet food recalls of select packages of dog and cat food sold in some of its retail stores - The products may contain aflatoxin, which poses a health risk to pets.
The recalled dog foods are:
Recalled Dog Foods
Bag Size
Sell By Dates
UPC Code:
Old Yeller Chunk Dog Food
22 lb.
OCT 23 11 DP and
OCT 24 11 DP
1111074566
Old Yeller Chunk Dog Food
50 lb.
OCT 23 11 DP and
OCT 24 11 DP
1111074563
Kroger Value Chunk Dog Food
15 lb.
OCT 23 11 DP and
OCT 24 11 DP
1111071559
Kroger Value Chunk Dog Food
50 lb.
OCT 23 11 DP and
OCT 24 11 DP
1111000108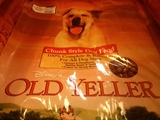 Kroger stores in the following states are included in these dog food recalls: Alabama, Arkansas, Georgia, Illinois, Indiana, Kentucky, Louisiana, Michigan, Mississippi, Missouri, North Carolina, Ohio, South Carolina, Tennessee, Texas, Virginia and West Virginia.
The recall also includes Dillons and Gerbes stores in Kansas and Missouri; Baker's stores in Nebraska; Food 4 Less stores in Nebraska, Illinois and Indiana (Chicago area); and Jay C, Hilander, Owen's, Pay Less and Scott's stores in Illinois and Indiana.
Aflatoxin is a naturally-occurring toxic chemical by-product from the growth of the fungus Aspergillus flavus on corn and other crops. If your pet shows any symptoms of illness, including sluggishness or lethargy combined with a reluctance to eat, yellowish tint to the eyes and/or gums, and severe or bloody diarrhea, please consult your veterinarian immediately.
Krogers Recall Information
- Also includes product information on affected cat food recalls.
---
November 10, 2010
Surrey Meat Packers, BC, Canada
Dog Food Recall of Raw Frozen "Beef Pet Food" - Possible E. Coli O157:H7 Contamination
The Canadian Food Inspection Agency (CFIA) and the Public Health Agency of Canada (PHAC) have issued a warning to the public to discard the following Beef Pet Food product which was sold to two stores in British Columbia.
The CIFA identified the potential contamination during an on-going food safety investigation of beef trims. To date, there have been no reported illnesses associated with this Beef Pet Food product.
The affected product was sold frozen in 500g blocks assembled in 10-unit and 50-unit packages from October 8 to 23 inclusively at the following locations:
Surrey Meat Packers, 6050-176th Street, Cloverdale, BC; and,
Jolly Meats and Fine Foods, 111 Charles Street, North Vancouver, BC.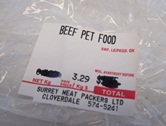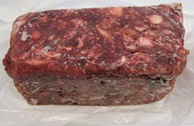 The label on the affected pet food
may not
show a packing date or a Best Before date. If you suspect you may have purchased this pet food product, you are advised to check with the stores where the product was purchased.
People may become infected with the bacteria by handling the pet food directly or by contact with pets that have consumed the food. Note that pet food contaminated with E. coli O157:H7 may not look or smell spoiled.
Consumer warnings are available at:
http://www.inspection.gc.ca/english/corpaffr/recarapp/recaltoce.shtml
---
October 8, 2010
Blue Buffalo Dry Dog Food Recalls - Possible Excessive Levels of Vitamin D
The Blue Buffalo Company, Wilton, Connecticut has announced voluntary dog food recalls due to potentially toxic levels of vitamin D.
The affected dry dog foods are:
| | | |
| --- | --- | --- |
| Product | Bag Size | Best Used By Dates |
| BLUE Wilderness Chicken Flavor dry dog food | 4.5 lb., 11 lb., 24lb. | JUL1211B, JUL1311B, JUL2611Z, JUL2711Z, JUL2811Z |
| BLUE Basics Limited Ingredient Formula Salmon and Potato Recipe dry dog food | 11 lb., 24 lb. | AUG2111B, AUG2211B |
| BLUE Life Protection Formula Natural Chicken & Brown Rice Recipe Large Breed Adult dog food | 30 lb. | SEP 22 11 P, SEP 23 11 P, OCT 26 11 P |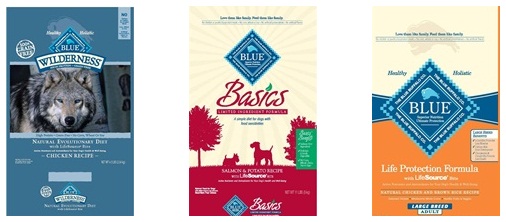 The
FDA Press Release
states:
"No other BLUE dry or can pet foods are involved in this recall, and only the specific code dates of these products are involved.
"To date there have been 36 cases nationwide of dogs reported with symptoms consistent with elevated Vitamin D in their systems while feeding on these specific productions of the products. In all cases the symptoms have subsided upon discontinuing feeding these products, with no apparent long term health consequences.
"Blue Buffalo learned of this potential eondition in its products when it received reports of dogs diagnosed with high Vitamin D levels while feeding on the products from these specifie production runs. On further investigation it was learned that a sequencing error had occurred at the supplier of the dry ingredients for these products. Immediately before producing the ingredients for these specific production runs, the supplier had run a product for another customer that contained a more potent form of Vitamin D used in chicken feeds. It is now believed that there was some level of carry over of this Vitamin D product into the ingredients for the specific manufacturing runs of the BLUE products, thereby increasing the Vitamin D activity to unacceptable levels in the Blue ingredients.
"Consumers who have purchased any of the products being recalled are urged to return it to the place of purchase for a full refund. Consumers with questions may contact the company at 1-877-523-9114 from 8 AM to 8 PM Eastern Time or visit the Company web site at www.bluebuffalo.com/news9 for more information."
See also:
Bill Bishop, Blue Buffalo Founder - Client Letter
,and
Events leading to the recalls from Veterinary Information Network:
---
September 3, 2010
The Hartz Mountain Corporation - Voluntary Dog Food Recalls of "Hartz Naturals Real Beef Treats" Because of Possible Salmonella Health Risk
The Hartz Mountain Corporation is voluntarily recalling one specific lot of Hartz Naturals Real Beef Treats for Dogs due to potential Salmonella contamination.
The dog food recall involves 74,700 8-oz bags of Hartz Naturals Real Beef Treats for Dogs,
lot code BZ0969101E, UPC number 32700-11519
. The dog treats were were imported by Hartz from a Brazilian supplier, Bertin S.A, and distributed to a number of customers in the United States.
Although regular testing conducted by Bertin (prior to shipment to the US) did not detect Salmonella in any packages of this product, random sample testing conducted by the FDA did indicate the presence of Salmonella. Hartz is aggressively investigating the source of the problem.
To date, Hartz has not received any reports of animals or humans becoming ill as a result of coming into contact with this product. However, dog owners should immediately discontinue use of the product and discard it in a proper manner.
Consumers can contact Hartz at 1-800-275-1414 with any questions and for information on how to obtain reimbursement for purchased product.
FDA Press Release
---
Merrick Dog Food Recalls - Beef Filet Squares & Texas Hold'ems
August 13, 2010:

Merrick Pet Care Expands its Dog Food Recall to include

ALL LOTS

of its 10 oz "Beef Filet Squares" for dogs and "Texas Hold'ems" pet treats because they have the potential to be contaminated with Salmonella. Salmonella can affect animals and there is risk to humans from handling contaminated pet products.
Note: There have been no reported illnesses to date.
Merrick Customer Inquiries: (800) 664-7387 -
Press Release
August 3, 2010:

Merrick Extends Dog Food Recall of

Beef Filet Squares ("Texas Hold'ems") - Potential for Salmonella Contamination
Merrick Pet Care, Inc. of Amarillo, Texas is extending its July 2, 2010 recall of "Beef Filet Squares for Dogs (Texas Hold'Ems)" pet treats to include:
83 cases of 10 oz bags of "Texas Hold'ems" - (Item #60016 - Lot #10127 - Best By May 6, 2012).

Okay, now! Something's not sitting well with us at all! Let's recap ...
From what we can tell,

only today, July 2, 2010,

does Merrick appear to have published news of this recall on their own website (?!)

Furthermore, it is nowhere to be found on the front page of their website, nor does it appear on the respective order page(s). Here it is, tucked away under "About Us - News & Info" -

Merrick Pet Care Recalls Beef Filet Squares

Now! If you compare the "Best By" dates posted by the FDA (i.e. November 19, 2011), you will note it is different from the "Best By" date of March 24, 2012, posted by Merrick! Plus, the lot numbers differ. The original lot number was 9323, and Merrick's stated lot number is 10084TL7.

Is this in fact a new dog food recall of the same product? We shall wait to see if it appears on the FDA website.
This is extremely disappointing! We don't expect to live in a perfect world, and we appreciate that dog food recalls can/will happen to even the very best dog food companies. However! What's so very frustrating, is the "way" the pet food manufacturers handle these situations. Will they never learn?
---
July 30, 2010
P&G -
Iams and Eukanuba Specialized and "Veterinary Formula" Dry Dog Food Recalls
The Procter & Gamble Company (P&G) (NYSE:PG) is voluntarily expanding its recall to include veterinary and some specialized dry pet food as a precautionary measure because it has the potential to be contaminated with salmonella. No salmonella-related illnesses have been reported.
The following products are included:
| | | | |
| --- | --- | --- | --- |
| Product Name | Version | "Best-By" Dates | UPC Codes |
| Iams Veterinary Dry Formulas | All dry sizes and varieties | 01Jul10 – 01Dec11 | All UPC Codes |
| Eukanuba Naturally Wild | All dry sizes and varieties | 01Jul10 – 01Dec11 | All UPC Codes |
| Eukanuba Pure | All dry sizes and varieties | 01Jul10 – 01Dec11 | All UPC Codes |
| Eukanuba Custom Care Sensitive Skin | All dry sizes | 01Jul10 – 01Dec11 | All UPC Codes |
FYI, we scoured both the Iams and Eukanuba websites to locate where this press release was buried. The only way we were able to uncover this information was by doing a manual search for "dog food recalls" on both the Iams and Eukanuba websites.
We consider this extremely shabby and unacceptable! Bear in mind also, that these so-called "specialized" and "veterinary formula" pet foods are mostly being fed to already health- compromised and sick dogs!
We made several attempts over a three hour period ... without success ... to reach various Iams and Eukanuba customer service departments for comment. On each attempt, we were placed on hold "due to high volume" until our line was automatically disconnected.! Their websites state that "most calls are answered within two minutes". However, on one occasion, we were on hold for half an hour before our call was dropped!
You can find the full
P&G Press Release here,
which includes details of ALL recalled dog and cat foods.
Note - This is the THIRD pet food recall for Iams this summer:
:
On June 9, 2010, Procter & Gamble Company also recalled specific lots of its

Iams canned cat food

in North America. Diagnostic testing indicated that the product may contain insufficient levels of thiamine (Vitamin B1), which is essential for cats.
On July 25, 2010, P&G recalled specific lots of Iams prescription brand renal diet dry cat food due to Salmonella contamination.
Please refer to the FDA Pet Health and Safety Widget (top right) for more information.
A reminder: Procter and Gamble is the company who recently purchased the all natural premium dog food brand,
Natura Dog Food.
---
Update: July 2, 2010

United Pet Group Voluntarily EXPANDS Recall of Nutritional Supplements For Dogs and Cats Because of Possible
Salmonella
Health Risk
United Pet Group's voluntary recall now includes additional pet nutritional supplement products, including brand names such as Doctors Foster and Smith, Petco, Excel, DDS, Pro-Pet and Excel products for dogs and cats.
The recalled products are sold nationally at various retailers, and all of the affected products are in tablet and powdered form. Consumers should immediately stop feeding these supplements to their dogs and cats.
Please see official
FDA Press Release
for UPC Codes, Label Descriptions and Epiry Dates.
June 22, 2010
United Pet Group - Voluntary Recall of Pro-Pet Adult Daily Vitamin Supplement for Dogs
United Pet Group, Cincinnati, Ohio is voluntarily recalling all unexpired lots of its PRO-PET ADULT DAILY VITAMIN Supplement tablets for Dogs, as Laboratory testing has revealed that one Lot of this vitamin product was contaminated with Salmonella.
Consumers should immediately stop feeding these supplements to their dogs.
The product was sold nationally at various retailers. These products are being removed from retail stores and consumers should immediately stop feeding these supplements to their pets.
See official
FDA Press Release
for information on Expiry Dates and UPC Code No.
---
June 18, 2010
Natural Balance Pet Foods Inc.
- Voluntary Dog Food Recall of Sweet Potato & Chicken Dry Dog Food
In a random sample test conducted by the U.S. Food and Drug Administration, a product sample of Natural Balance Sweet Potato and Chicken tested positive for Salmonella .
No illnesses have been reported to date, and this is the only Natural Balance dog food recalls.
The official
Natural Balance Press Release
provides details of the "Best By" date, bag sizes and UPC codes of the affected products, as well as a list of all the U.S. states that the products were distributed to.
---
March 13, 2010
Rollover Premium Pet Food Ltd. (Canada) - Voluntary Dog Food Recall on Pork Tenders Premium Dog Treat
The Canadian Food Inspection Agency (CFIA) has issued a press release
warning consumers not to purchase or use the Roll Over Pork Tenders Premium Dog Treat described below. This product may contain salmonella bacteria.
The affected Roll Over Pork Tenders Premium Dog Treat was sold in 50 g packages bearing UPC 0 60766 88138 1. All lots up to and including March 7, 2010 are affected by this alert.
Roll Over Pork Tenders Premium Dog Treat was distributed nationally, and there has been one illness reported associated with this product.
---
March 9, 2010
Nature's Variety Expands Nationwide Voluntary Dog Food Recall.
Nature's Variety - Important Food Safety Update states their voluntary dog food recall will now also include all Raw Frozen Chicken Diets with any "Best If Used By" date on or before 2/5/11.
FDA Press Release - Updated March 9, 2010
February 11, 2010
Nature's Variety Issues Nationwide Voluntary Recall on Raw Frozen Chicken Diets
Nature's Variety Dog Food Company has initiated a voluntary recall of their Chicken Formula raw dog food and cat food with the "Best If Used By" date of 11/10/10 due to concerns over Salmonella contamination.
The only products affected are limited to chicken medallions, patties, and chubs with a "Best If Used By" date of 11/10/10.
The "Best If Used By" date can be found on the back of the packaging directly above the handling instructions.
According to Nature's Variety's official news release no human or pet illnesses have been reported to date in connection with this issue, and no other Nature's Variety products are affected by this issue.
We applaud Nature's Variety for their timely and professional handling of this dog food recall, and were thrilled to see the announcement from their CEO upfront and center on their home page.
You can also speak with one of their company representatives 24 hours a day, 7 days a week at 800-374-3142.
---
In December 2009, the FDA conducted routine testing of Merrick Beef Filet Squares and detected a positive finding for Salmonella. A follow-up inspection found deficiencies in the packaging and manufacturing processes.
The Beef Filet Squares were shipped to distributors and retailers throughout the US
No illnesses associated with these products have been reported. However, the FDA is advising consumers in possession of these products not to handle or feed them to their pets.
FDA Press Release on Merrick Pet Food Recalls
These are the first dog food recalls by the Merrick Dog Food company that we are aware of.
---
November 02, 2009
Wysong Dog Food Recalls
Wysong has detected mold in batches of its extruded dog foods manufactured in June, July and August of 2009. According to Wysong, they attribute the mold to unusually high heat and humidity during the summer in combination with a malfunctioning moisture checking device.
Wysong reported its foods were tested for mycotoxins and came back negative.
Please check Wysong's Website, for batch number details and if you have received any of these Wysong products, do not feed them to your dogs. Contact Wysong for product replacement.
Note, Wysong produces premium dog food, and this is the first recall or issue we are aware of by this company.
---
September 30, 2009
Not Nutro Again?! Voluntary Withdrawal of Select Puppy Foods
Small pieces of melted plastic - from a worker's hard hat - were recently found in the production line of select varieties of Nutro dry dog and cat food products. Read here for Nutro's full press release on their voluntary puppy food recalls
Well fine, sure accidents happen, but the question we have is ... If this incident occurred during production, how did the puppy foods then make it all the way to the store shelves?
---
September 10, 2009 – Report Scrutinizes FDA's Work in 2007 Pet Food Recall
More than two years after the largest dog food recall in history, federal investigators maintain that the Food and Drug Administration (FDA) did not do its job properly;
"... FDA's lack of authority, coupled with its sometimes lax adherence to its recall guidance and internal procedures and the inadequacy of some of those procedures, limited FDA's ability to ensure that contaminated pet food was promptly removed from retailers' shelves".
The report was audited by the Office of Inspector General (OIG), upon the request of Iowa Senator Tom Harkin, Chairman of the Senate Committee on Agriculture, Nutrition and Forestry. Full story.
The Review of the Food and Drug Administration's Monitoring of Pet Food Recalls is available to the public.
---
September 9, 2009
New Government Consumer Website to Provide Pet Food Recall Information
A new
Food Safety Consumer Website
which will include dog food recall Information has just been launched by The United States Department of Agriculture (USDA), and the United States Department of Health & Human Services (HHS).
The new website features information from all the agencies across the federal government that deal with critical food and food safety information. "We want to protect pets and animals so we will include information as it comes up," said Vicki Rivas-Vazquez, a spokeswoman for HHS.
"The goal is to provide a 'one-stop online shop' for all the latest information [consumers] need to reduce the danger of food-borne illnesses," said Jerry Mande, Deputy Under Secretary for Food Safety at USDA.
The website will include information on food safety, food recalls (human and pet), preventive tips about how to handle food safely, and news from the key agencies.
"Protecting the health and well-being of the American people is a fundamental responsibility of the federal government," said Agriculture Secretary Tom Vilsack. "Our new and innovative approach to connecting consumers to food safety information in an easy and timely manner is a critical improvement in this effort."
The website will eventually include a widget which will instantly update viewers with the latest dog food recalls. As soon as this widget becomes available, Dog Food Scoop will make it available on our website.
---
September 8, 2009 – New Rule: FDA Requires Faster Food Safety Reporting
A new rule is now in effect to help federal regulators spot food safety issues sooner. All food manufacturing facilities must alert government officials of potentially contaminated products, or other serious safety problems within 24 hours. This rule also applies to all pet food manufacturers.
Full story here.
---
June, 2009
ChemNutra to Plead Guilty
Husband and wife, and co-owners of Las Vegas based ChemNutra Inc. to plead guilty in charges related to melamine-tainted pet food that killed thousands of dogs and cats in the
disgraceful dog food recall of 2007.
Read full ChemNutra details here.