Champion Show Dog and Therapy Dog
by Marcia Murray-Stoof C.P.D.T.
(Innisfil, Ontario, Canada)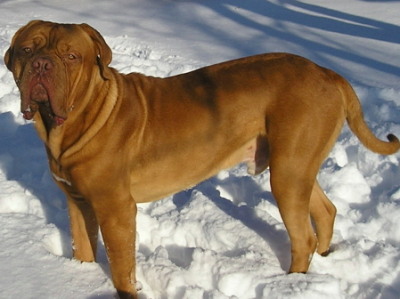 Ch. Tars Tarkas of Regal Rouge Bordeaux
Hi:


My name is Marcia Murray-SToof C.P.D.T. and I breed and compete with my Dogue De Bordeaux's (AKA French Mastiffs or Hooch Dog).
I have been working, breeding and competing with dogs all my life, and previously bred and exhibited, as well as competed in obedience, agility with my Dobermans.
My breed of choice is now the Dogue De Bordeaux and I am proud to say my stud male is a Canadian Federation Champion and he is also a working Therapy Dog and is Child Certified.
Tars Tarkas is 148 pounds with not a mean bone in his enormous body. He is the epitome of a Gentle Giant.
To see more of Tarkas visit his web page at http://regalrougebordeaux.tripod.com