Deciphering Dog Food Labels - Part II
Guaranteed Analysis
Compare Dry Dog Food with Canned Dog Food
As directed by AAFCO, all dog food labels must have a "Guaranteed Analysis" section, which states the percentages of the main nutrients of the product.
It is normally found on the back of the packaging.
Click here to read more about AAFCO and the other organizations who regulate dog food.
Guaranteed Analysis
According to AAFCO rules, the guaranteed analysis must consist of the following:
Minimum Percentage of Protein
Minimum Percentage of Fat
Maximum Percentage of Fiber
Maximum Percentage of Moisture
How to Compare Dry Dog Food with Canned Dog Food
There is a huge difference in moisture content between dry dog food and canned. Canned dog food averages 75% water, whereas dry dog food averages about 10%.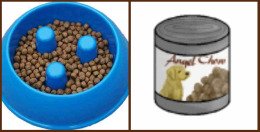 Therefore, in order to make a true dog food comparison of the nutrient levels, we need to convert both products to dry matter.
The formula is quite simple, really ... Grab your calculators and follow along with our example.
Percentage of Guaranteed Analysis Component
Divided by Percentage of Dry Matter
Multiplied by 100
Assuming a can of dog food contains:
9% protein
4% fat
1% fiber
81% moisture
At first glance, 9% protein looks on the very low side compared to dry dog food. Now watch this number after we convert it.
1. Calculate the dry matter of the canned food by deducting the moisture
percentage (81%) from 100. i.e. 100 - 81 = 19%.
2. Now, using this dry matter figure of 19%, apply the formula to each of
the components, as follows:
Protein: 9 divided by 19 x 100 = 47.4%
Fat: 4 divided by 19 x 100 = 21%
Fiber: 1 divided by 19 x 100 = 5.3%

Notice the protein percentage now. You will find in many cases, canned dog food values tend to exceed that of dry dog food.
If you're weighing up the pros and cons of Canned Dog Food Versus Dry Dog Food, we also recommend you read our eye-opening articles on:
Dog Food Storage - What you need to know Before You BUY dog food, and
Risks of Pet Food Containers - What you need to know Before You OPEN dog food.


CONTINUE to Dog Food Labels - Part III