Natura Dog Food
Dropped From 10 Best Dog Food List
Downgraded to 2 Scoops

Like most of the pet community, we are very saddened by Natura Dog Food's sellout to Procter & Gamble.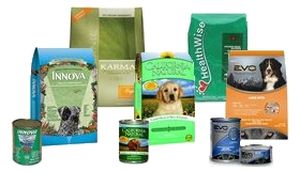 Natura Dog Food Brands
We have totally re-evaluated our dog food reviews and ratings of the one time premium dog food manufacturer. For the moment, we are ranking Natura 2 Scoops, and in all likelihood we will downgrade them even further in the near future.
Here's a walk-through of how we arrived at our decision.
Natura Dog Food - Summary
On June 1, 2010, Natura Pet Products finalized the sale of their business to Proctor and Gamble (P&G), the world's largest manufacturer of household products.
The brands of premium, all natural dog food made by Natura Dog Food are: Innova, Evo, California Natural, HealthWise, and Karma Organic Dog Food (made with over 95% organic ingredients). Each of these brands were exceptionally high quality dog foods, and Natura Pet Foods was by all accounts a trusted and highly-respected pet food manufacturer.
We had originally rated all Natura Dog Food brands a 5 Scoop dog food ranking, and even included three of their products, California Natural, Evo and Innova dog foods on our list of 10 Best Dog Food Brands.
P&G Press Release
Natura Pet Products Announcement
Proctor & Gamble - A Snapshot of a Corporate Giant
P&G is a massive multinational corporation headquartered in Cincinnati, Ohio. Approximately 135,000 employees work in about 80 countries worldwide. As of mid 2010, it is the sixth most profitable corporation in the world, and the fifth largest corporation in the United States -- surpassed only by Apple, Exxon Mobil, Microsoft, and Walmart.
P&G is the world's largest manufacturer of household products, with about 23 brands sold in 140 countries worldwide. Its bounty of products includes: Pampers, Tide, Oral-B, Duracell, Pringles, Olay, Head & Shoulders, Wella, Gillette, Ariel, Always, Whisper, Pantene, Mach3, Bounty, Dawn, Gain, Charmin, Downy, Lenor, Crest, Braun, Fusion ... Iams and Eukanuba -- and now, Natura Dog Foods!
Additionally, P&G has owned more than 20 soap operas in the past 80 years, including the CBS productions, "Guiding Light" and "As the World Turns" (both cancelled in 2009).
In 2007, according to the Nielsen Company, P&G spent $2.62 billion on U.S. advertising. Not only is this more than any other company, but it's almost twice as much as the next company on the Nielsen list, General Motors. Globally, P&G spends around $7 billion on advertising each year.
In January 2010, the Company announced the testing of an online retail outlet, in order for
P&G to sell their products directly to U.S. consumers.
It will be telling to see if and when Natura Dog Food will be added to their catalogue?
Procter & Gamble – A Probing Look at Corporate Ethics

Iams and Eukanuba Dog Foods
In 1999, P&G purchased the Iams Company, which included the Eukanuba dog food brand, for $2.3 billion.
Prior to the buyout, Iams was a respectable family owned and operated dog and cat food company. Iams and, Eukanuba in particular, were a cut above other mass market dog food brands, and were only available through specialty pet stores and veterinary clinics. (Note, one can't compare their original foods with the quality of our present products, as premium all natural dog food, as we know it today, did not exist in the 1990s).
Shortly after the acquisition, P&G expanded both Iams and Eukanuba to the mass market, making it widely available in supermarkets and retail stores such as Costco, K-Mart and Walmart, across the globe.
Within months of the takeover, it became very apparent that changes had been made to the formulation of the foods. There were numerous accounts of dogs and cats suddenly developing various health issues and dog food allergies -- from diarrhea to intense itching, brittle and poor quality coats, skin rashes, hot spots, and even blown coats.
The packaging remained unchanged, and no notification was given to retailers, pet owners or vets. (Note: Pet food companies are not required to list ingredient changes on dog food labels for 6 months -- a legal loophole for P&G).
After much publicity and a huge public backlash, P&G admitted to switching ingredients from rice to barley, but denied making any other formula changes. They went as far as adding a PR page to their website in an attempt to dispel what they referred to as "rumors", and insisted they were continuing to use the same quality ingredients as before!
In April 2000, P&G implemented another strategy in an attempt to further reassure the public of their
"emphatic commitment to maintaining the premium quality of Iams and Eukanuba dog and cat foods"
- and that -
"any product changes that occured were designed to enhance the product"
. They convened an independent seven-member panel, known as the Iams Quality Review Board, consisting of veterinarians, breeders, research nutritionists and pet specialty store owners. The members met at the Company's Ohio plant to observe and review the manufacturing process and analyze and compare ingredients lists against product samples obtained over the past twelve months.
The report with its glowing conclusions was flaunted on their website
Iams Company Website, May 17, 2000
Iams Quality Review Board Report and Findings
P&G was later sued by Nutro and Kal Kan Pet Food Companies for false advertising and misleading labels, plus a class action lawsuit on behalf of consumers was settled by the California law firm, Wasserman, Comden, Casselman & Pearson.
The lawsuit brought to light that in reality, Iams had
"reformulated its dog food ingredients 'to enhance' the formula -- substituting chicken for 'chicken by-products meal' and a 'carbohydrate blend' of bran sorghum and barley for rice. It then adjusted its package instructions to reduce per-day servings by 25 percent to reflect scientific evidence, it says, that in-home dogs are 25 percent less active than kennel dogs -- the basis of most dog food formulations."
Thus, with the substitution of cheaper quality ingredients and reducing recommended feeding amounts by 25%, these "premium" foods could now compete price-wise with grocery store dog food. In truth, Iams and Eukanuba dog foods had effectively now become poor quality supermarket pet foods parading their fancy dog food labels and exploiting the Iams and Eukanuba brand names.
Perhaps even more telling is that P&G and the FDA filed motions to keep correspondence between them secret and unavailable for evidence in the lawsuits. Copies were obtained under the Freedom of Information Act, which disclosed that Iams and Eukanuba's dog foods did not meet AAFCO standards even though the AAFCO stamp of approval appeared on the label.
Washington Post article on
Nutro's 2002 lawsuit against Iams.
Will history repeat itself with Natura Dog Food?
Actonel Osteoporosis Medication
Until recently, P&G also manufactured branded pharmaceutical drugs, including Actonel, an osteoporosis medication, and Enablex, a medication for overactive bladder. Annual sales were around $2.3 billion. It sold its pharmaceutical division to Warner Chilcott on October 30, 2009.
According to a Reuters article:
"P&G failed to realize its ambition of becoming a major force in pharmaceuticals, although Actonel became one of the world's top-selling treatments for prevention of fractures in post-menopausal women
... Cincinnati-based P&G, best known for its vast array of household consumer products such as Tide detergent and Crest toothpaste, said it is selling its branded medicines to "prioritize" investments in its consumer health-care businesses."
In a true David and Goliath story, a Senior Medical Professor at Sheffield University in Britain, Dr. Aubrey Blumsohn, went to battle with P&G accusing the Company of denying him access to key data while attempting to ghost write papers with his name on it. The University, influenced by the millions of dollars of research grants from P&G, made attempts to bar the Professor from "whistle blowing" P&G's efforts to conceal data and manipulate research conclusions.
www.guardian.co.uk
After four years of
"mounting pressure and negative publicity, P&G launched a public relations campaign intended to salvage their reputation. The company first issued the researcher's 'Bill of Rights,' which stated researchers would have access to all information about which they are writing. Finally, P&G released Actonel's full data sets to Blumsohn, a tremendous victory for Blumsohn and GAP. The full data sets verified Blumsohn's suspicions and
provided evidence against P&G for scientific fraud
."
Animal Cruelty Allegations
In 2002 and 2003, PETA (People for the Ethical Treatment of Animals) conducted an undercover investigation at Sinclair Research Center, a laboratory contracted by Iams Pet Food.

The investigation uncovered horrendous, inhumane acts of cruelty to dogs and cats.
The investigator found dogs who had literally gone crazy from intense confinement in barren, steel cages and cement cells. The purpose of the "research" was to observe the effects of solitary confinement on a dog!

Many dogs were debarked, while others were left on a filthy floor after chunks of muscle had been hacked from their thighs. Many extremely sick dogs and cats were simply left lying neglected in cages, dying slowly and painfully, alone. No veterinary care or pain relief was provided.
Iams representatives toured the facility, witnessed the events and ... turned a blind eye!
The U.S. Department of Agriculture (USDA) investigated PETA's complaint and cited the laboratory for about 40 violations of the Animal Welfare Act. Sinclair paid a penalty of $33,000.
P&G denied any involvement in the scandal. However, once again, after intense publicity and extreme pressure from PETA, P&G's public relations machine went into damage control. They agreed to begin conducting in-home tests for food and nutrition experiments and even built a separate website designed to explain P&G's version of the "facts".

On another occasion, Iams/Eukanuba also fought the release of information from a university study in which a painful disease was induced in dogs.
In a 2001 Petfood Industry Electronic Newsletter, Diane Hirakawa (Senior Vice President of Iams' Research & Development) makes an admission, stating,
"The lesson learned here is that kennel studies are not an appropriate way to test feeding guidelines because most kennels represent a high-stress … environment. Naturally, in such an environment, dogs may need to consume more food than they would in a home setting."
-
www.iamscruelty.com
.


However, Iams allegedly still keeps up to 700 dogs in their Dayton, Ohio laboratory for non-invasive nutritional studies. It refuses to give PETA representatives access to the lab and also refuses to end invasive experiments on non dog and cat studies.
See below for the shocking PETA video. Warning: This video is extremely graphic and absolutely heartbreaking!
See
www.peta.org
and further
Proctor & Gamble references
for anyone who wishes to probe deeper.
The Future of Natura Dog Food - Our Thoughts

Although some may choose to adopt the "wait and see" approach regarding the future of Natura Dog Food, we personally have enough to form an opinion on P&G's history of deceitful practices and lack of ethics. In fact, the Dog Food Scoop team has not purchased P&G products for many years.
Yes, large companies are driven by profits and shareholder accountability. In our opinion, P&G's numerous fraudulent activities and smoke and mirrors, reveal a cold and highly unprincipled corporate giant, with little regard for human well-being and pure mercilessness with respect to our beloved dogs and other animal life.
We believe Natura Dog Food has no place in a conglomerate focused on baby diapers, batteries, razor blades, detergents, cosmetics, etc. P&G's philosophy, in our opinion, is totally incongruent to a product such as Natura Dog Food -- or anything else to do with pet health, for that matter!
We cannot imagine how P&G could ever consider compromising on its profit margin for the sake of our dogs' welfare.
We have no intention of contacting either P&G or Natura dog food representatives, as we believe it is a waste of our time to listen to pointless rhetoric and carefully scripted marketing humbug. Nor do we intend taking a shot at the past owners of Natura Dog Foods. No doubt, the deal has provided the family with enormous financial wealth for many generations to come. How the family really feels about their decision, and any other how's and why's are quite irrelevant at this stage. Our focus is on moving forward and uncovering the truly invested dog food companies.
So! Will this leopard ever change its spots? Or will it merely become more skilled at concealing them and engaging in their slick public relations campaigns? We've certainly let you know what we think! :-(
Folks, as always, this is our opinion on the sellout and future of Natura Dog Food. Naturally, some of you will have differing points of view and ultimately everyone has to make decisions they personally feel comfortable with.
What Do
YOU

Think the Future Holds for Natura Dog Food?

We welcome all feedback and opinions. Please feel free to tell us whether you agree or disagree with us. Are we being too generous or too miserly with our 2 Scoop rating?

What do

YOU

think the future holds for Natura Dog Food?