"The Fire Hydrant"
Join the Discussions
Outside

of the Dog Food Bag!

The Fire Hydrant is our new
interactive
off-leash dog park, designed for all discussions
unrelated
to dog food, diet and nutrition.
Here's where
YOU
can share
YOUR
thoughts and opinions, and offer useful information on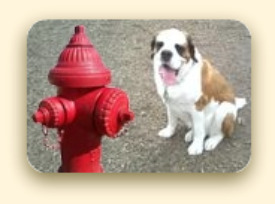 various dog topics. You can also comment on contributions from other visitors.
Your submissions may be controversial and thought-provoking or, depending on your mood, light hearted and entertaining!
Some Suggestions:
Interesting dog related stories currently making news headlines.
Thoughts on puppy and dog vaccinations. Are we over-vaccinating our dogs?

Opinions on mainstream dog medications vs. holistic dog treatments.

Real

leash-free dog parks. Are they safe? Do you approve or disapprove?

Puppy and dog training tips and suggestions.
Thoughts on adopting from a shelter versus from a reputable breeder. Any helpful tips you can offer future dog parents when considering adopting an absued dog?

Write a review of a dog item you recommend.or caution against (e.g. Dog health books, best dog toys, dog beds, etc.).
Opninions on best breeds of dog for children; adventure-seekers; couch potatoes; working families; senior citizens, etc,
See bottom of page for list of visitor contributions.

Community Scoop interactive dog parks are designed to encourage friendly, caring and informative discussions. All well-meaning opinions are welcomed and treated with respect.

Spiteful, discourteous and other inappropriate comments will get you thrown in the dog house without warning. This applies to spam and/or advertising attempts.

If you state a claim as fact (versus expressing a personal opinion), or alert us to a news story, please provide relevant reference links. We will include links at our own discretion.

The opinions expressed in Community Scoop interactive dog parks are the opinions of those who post and do not necessarily reflect the opinion of the Dog Food Scoop Team. In other words, they are your words, not ours.


Got Something on Your Mind? Bark it Out Here!
Share your dog story and thoughts and opinions here. Whether it's fun and humorous, educational, or controversial, go on and bark it out here.

Just start typing in the form below. Click on the question marks for a few tips.
What Other Visitors Have Said
Click below to see contributions from other visitors to this page ...