Many wild mushrooms are very dangerous foods for dogs, and in the worst cases, can result in the death of your pooch within three to seven days of ingestion.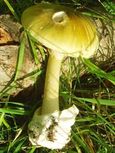 The biggest culprit is the wild mushroom, "Amanita Phalloides", the death cap mushroom, (picture shown), which accounts for the majority of fatal cases of dog poisoning by mushrooms.
Most cases of mushroom poisoning in dogs in North America occur in the spring, summer, and fall.
Many other wild-growing mushrooms are toxic to dogs in varying degrees. Please consider ALL wild mushrooms as toxic, until identified and proven otherwise!
If your dog has eaten mushrooms, it is important but often difficult to identify the species of mushroom. Call a Human Poison Information Center, or take a sample of the mushroom with you to your vet for identification. Note: Do not store the mushrooms in a plastic bag. Use a paper bag, moist paper towel, or wax paper.
Note: Common white mushrooms appear to be safe and are not considered dangerous foods for dogs.
SIGNS AND SYMPTOMS
The first symptoms of dog poisoning by Amanita Phalloides mushrooms are: Profuse bloody diarrhea, nausea and vomiting, abdominal pain, dehydration, fever, and a rapid heart beat.
This phase typically lasts about 24 hours.
The final and, often terminal, phase of poisoning occurs three to four days after eating the mushrooms. The dog will suffer from severe kidney failure, as well as other critical damage and may lapse into a coma. Typically, affected dogs die within three to seven days of ingestion.
Dog poisoning by other varieties of wild mushrooms may vary considerably depending on the type of mushroom. You may notice your dog exhibiting any of the following wide range of symptoms: Anxiety, restlessness, excitation, seizures, slow heart beat, wheezing, abdominal pain, visual disturbance, diarrhea, urination, salivation, etc.
HOW MUCH IS TOO MUCH?
Exact quantities are unknown. Don't take any chances! Get your pooch to the vet immediately.
WHY ARE MUSHROOMS DANGEROUS FOODS FOR DOGS?
Different mushrooms contain different toxins that typically attack the dog's central nervous system or GI system. For the most part, the toxic components are unknown.
NUTS
Macadamias, Almonds, Walnuts, etc.
Surprisingly, many different types of nuts are generally considered dangerous foods for dogs.
Macadamia nuts in particular - (raw, roasted, and macadamia butter) are a known toxic food for dogs and can cause locomotory difficulties.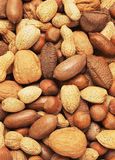 Tree nuts, such as walnuts, pecans, pistachios, and Brazil nuts, are often contaminated with very low levels of the poison Aflatoxin, which comes from the Aspergillus mold. These levels are considered safe for human consumption by the FDA. However, dogs are acutely sensitive to this poison, and even low levels of Aflatoxin can be extremely toxic to dogs. It causes severe hepatocellular necrosis, which leads to decreased liver function. The episode can be either acute (short lived), or last for several days.
(FYI, Birds also have heightened sensitivity to this toxin).

Other varieties of nuts can cause various other dog illnesses and dog poisoning.

Nuts generally have a high phosphorus content which causes the formation of bladder stones in dogs.

Walnuts can cause gastroenteritis in dogs.

Note: Peanuts and peanut butter are generally considered safe foods for dogs. Peanut butter is widely used in dog treats, as a kong stuffer, etc. However, peanut butter is somewhat controversial in that it is also known to contain mold which often leads to yeast growth in pets, as well as in humans. This, in turn, often causes dog skin allergies.

SIGNS AND SYMPTOMS

Bladder stones in dogs are also sometimes referred to as kidney stones, urolithiasis, urethritis, cystitis, or urinary calculi. If the stones are large enough, blockage can occur in the urinary tract, and your dog will not be able to pass urine. This can cause your pooch extreme pain. It is an emergency situation and you need to rush your dog to the vet for immediate treatment.

The symptoms of bladder stones in dogs you may observe are: straining to urinate, or frequent "dribbling" urination, blood in the urine, and painful urination.

The symptoms of dogs eating macadamia nuts are known as locomotory difficulties. Dogs develop elevated body temperature, rapid heartbeat, anxiety, muscle tremors, and weakness or paralysis of the dog's hindquarters (this typically lasts for a few days). They may be unable to stand up, are panting heavily, and show obvious signs of distress. Some dogs develop swollen and painful limbs.

The symptoms of gastroenteritis in dogs usually present as persistent vomiting (sometimes bile may be seen in the vomit), dehydration and watery diarrhea. Other symptoms include lethargy, lack of appetite, stomach grumbling, and general listlessness.

HOW MUCH IS TOO MUCH?

As few as six macadamia nuts can trigger locomotory difficulties in dogs.

For other varieties of nuts, it's likely based on how sensitive your pooch's system is, the size of your pooch and, naturally, the more your doggie consumes, the more likely he is to encounter problems.

WHY ARE NUTS POISONOUS FOODS FOR DOGS?

The toxin in macadamia nuts that causes dog poisoning is not known.

Other varieties of nuts are commonly contaminated with very low levels of the poison Aflatoxin which dogs are extremely sensitive to.

The high phosphorus content in many nuts can result in bladder stones in dogs.
NUTMEG