Keys Manufacturing Company Inc.
Pig Ears for Pet Treats
Dog Treat Recall - March 3, 2011
Potential Salmonella Health Risk

Keys Manufacturing Company, Inc. of Paris, IL is recalling Pig Ears for Pet Treats because they have the potential to be contaminated with Salmonella.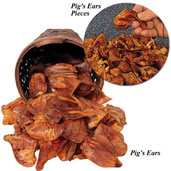 The pig ears were distributed via truck to distributors in the following states:
Pennsylvania, Virginia, Missouri, Iowa, Ohio, Illinois, Florida, Kentucky, Michigan, Arkansas, Indiana, Louisiana, Texas and Minnesota
.
The product was distributed in 100 count cases packed in cardboard boxes shipped between Sept. 27-Oct. 6, 2010; Nov. 1-Nov. 29, 2010; and Jan. 3-Jan. 25, 2011.
One illness to a dog in Missouri has been reported to date.

The recall is a result of a reported illness by a dog in Missouri. Subsequently, the company has been working with the FDA to identify any products that might contain the bacteria and the company and the FDA is continuing the investigation to determine what caused the problem.
The Company has updated its website with a dog food recall alert on its home page. Interestingly, their website also states "All product is tested for salmonella, water activity, and moisture before shipping."
If you're in possession of any loose (unlabelled) pigs ear dog chews, please speak with your local retailer to find out whether they could have come from Keys Manufacturing Company.
OR - Play it safe and throw them out!
You many also contact the company at 1-217-465-4001.
"Salmonella can affect animals and there is risk to humans from handling contaminated pet products. People handling dry pet food and/or treats can become infected with Salmonella, especially if they have not thoroughly washed their hands after having contact with the chews or any surfaces exposed to these products.

"Healthy people infected with Salmonella should monitor themselves for some or all of the following symptoms: nausea, vomiting, diarrhea or bloody diarrhea, abdominal cramping and fever. Rarely, Salmonella can result in more serious ailments, including arterial infections, endocarditis, arthritis, muscle pain, eye irritation, and urinary tract symptoms. Consumers exhibiting these signs after having contact with this product should contact their healthcare providers.

"Pets with Salmonella infections may be lethargic and have diarrhea or bloody diarrhea, fever, and vomiting. Some pets will have only decreased appetite, fever and abdominal pain. Infected but otherwise healthy pets can be carriers and infect other animals or humans. If your pet has consumed the recalled product and has these symptoms, please contact your veterinarian." - Official FDA Press Release

FROM
Keys Manufacturing Pig Ears Recall TO Home