Bravo! Recall of Pig Ears Dog Chews

May 31, 2011
Salmonella Contamination
Bravo!, a Connecticut company that makes raw diet pet food and all-natural treats is recalling certain boxes of Bravo! Pig Ears Chews because they may be contaminated with Salmonella.
The recall is the result of a routine sampling program by the Washington State Department of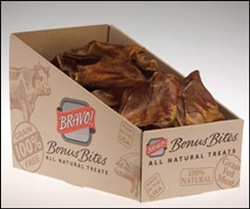 Agriculture which found that the finished products contained the bacteria.
The company said it has not received any reports of illness in either people or animals associated with the pet chews.

Details of the recalled Bravo! Pig Ears Dog Chews
Consumers who purchased the recalled pig ears are urged to return the product to the place of purchase for a full refund.
Consumers with questions about the recall should visit www.bravorawdiet.com or call toll free 1-866-922-9222 9 a.m. to 5 p.m. Monday to Friday..
"Salmonella can affect animals and there is risk to humans from handling contaminated pet products.

People handling dry pet food and/or treats can become infected with Salmonella, especially if they have not thoroughly washed their hands after having contact with the chews or any surfaces exposed to these products.

"Healthy people infected with Salmonella should monitor themselves for some or all of the following symptoms: nausea, vomiting, diarrhea or bloody diarrhea, abdominal cramping and fever.

Rarely, Salmonella can result in more serious ailments, including arterial infections, endocarditis, arthritis, muscle pain, eye irritation, and urinary tract symptoms.

Consumers exhibiting these signs after having contact with this product should contact their healthcare providers.

"Pets with Salmonella infections may be lethargic and have diarrhea or bloody diarrhea, fever, and vomiting. Some pets will have only decreased appetite, fever and abdominal pain.

Infected but otherwise healthy pets can be carriers and infect other animals or humans.

If your pet has consumed the recalled product and has these symptoms, please contact your veterinarian."